Product introduction
Shaker table (shaking table) has excellent separation accuracy, and stable separation index, it is widely used in the separation of gold ore, tungsten ore, tin ore, tantalum and niobium ore, manganese ore, chrome ore, titanium ore, ilmenite ore, bismuth ore, lead ore and so on. When process tungsten ore, tin ore, gold ore or other high-density ores, the particle size range of effective recovery is 3-0.022mm, the enrichment ratio of low grade ore could reach about 300 times.
6S shaker table is a gravity separation equipment for fine particle minerals, its separation accuracy is usually higher than other gravity equipment, it can be used for roughing, cleaning, scavenging and other different applications. After long years of improvement and development, the table has developed a variety of grooves with different numbers and shapes, it can be respectively used for the the separation of coarse sand (3-0.5mm), fine sand (0.5-0.074mm), slime ore (-0.074mm) and the needs of other different grain size.
It can be used as a cleaning equipment in combination with our spiral chute, which can achieve the best working efficiency and mineral separation effect, and achieve greater mineral processing capacity at small occupation area.
6S shaking table working principle
Put the raw materials into the feeding trough, add water to mix into slurry of 20-30% concentration, it gravity flow to the table. The particle group become loose and layered in the groove because of the rinsing of water and the back and forth shaking of table. After the layered, the upper particle and the bottom particle move in different direction because of the different pressure of flowing water and the friction of table surface. The upper light particle moves downward along the transverse of table surface result of the stronger flowing water, this side called tailing side. The heavy mineral particles which located in the bottom of table was influenced by differential movement of table surface, thus them move to the opposite of the drive end, this zone we call concentrate side. Because of the different density, granularity, and the direction of movement, the groups of mineral particles spread in fan-shaped along the diagonal of the feeding trough. The production discharges along the edge of table surface, the discharge line is so long, so that shaking table could produce many kinds of different quality products precisely, such as concentrate, secondary concentrate, middling, tailing etc.
Compared with wood table and rubber table, the advantages of fiberglass table are as follows: 1. Large rigidity and strength, small deformation; 2. Low water absorption, no weight gain; 3. The table is not easy to damage, good wear resistance and less maintenance; 4. No moisture absorption, no rot, no worm damage; 5. Chemical corrosion resistance, acid and alkali resistance, do not avoid chemicals in pulp; 6. Strong climate adaptability, stable shape, no crack; 7. Excellent separation performance and stable index.
6S shaking table diagram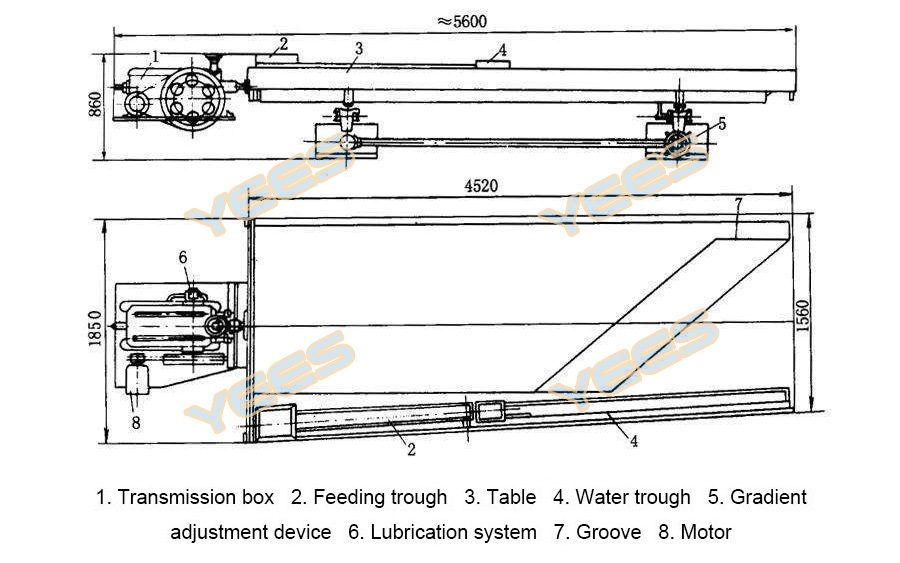 Advantages and features
1. Low equipment price and quick revenue;
2. High concentrate grade, high recovery, stable separation index;
3. Easy installation and operation, stable running;
4. Lateral slope adjustment range (0 °-10 °), easy stroke adjustment, the table can keep the smooth operation in adjustment;
5. Fiberglass table, high stiffness and strength, no deformation, no crack, no rust, corrosion resistance, wear resistance, strong weatherability;
6. 9 different tables are available to meet the requirements of different feeding granularity;
7. Easy maintenance and long service life.

Application case video
Introduction video: https://youtu.be/44jC8WY-vx4
Tin ore processing plant: https://youtu.be/jIOwFuyR1v0 and https://youtu.be/bWdEiouth70
Tantalum ore mining plant: https://youtu.be/e9jV9chC0gc

Main technical parameters
The coarse ore table is designed for recovering particles size from 0.5-3 mm; the fine sand table is designed for recovering fine particles from 0.074-0.5 mm; the slime ore table is designed for recovering super extremely fine particles from 0.02-0.074 mm.