Product introduction
Ball mill is the key equipment for material grinding after crushing in mining. It is suitable for grinding all kinds of ore and other materials, such as: cement, silicate products, new building materials, refractories, fertilizers, black and non-ferrous metals and glass ceramics, etc., it is widely used in mining, building materials and chemical industries. It can be divided into dry and wet grinding mode, according to the different discharge mode, and divided into grid type and overflow type.
Ball mill working principle
The materials are grinded in the cylinder through feeding from the hollow shaft. The cylinder contains steel balls of various diameters. When the cylinder rotates around the horizontal axis at a certain speed, the steel balls and materials in the cylinder reach a certain height under the action of centrifugal force and friction force. When their own gravity is greater than the centrifugal force, they are left from the inner wall of the cylinder to fall or roll down, the materials would be broken due to the fallen impact force. At the same time, in the process of rotation, the sliding motion of steel balls also produces grinding effect on raw materials. The grinded material is discharged through a hollow shaft of the end of ball mill. Due to the continuous feeding of materials, the pressure causes the materials in the cylinder to move from the feeding end to the discharging end. In wet grinding, the material is carried out by water flow; In dry grinding, the material is sucked out by the airflow out.
Ball mill diagram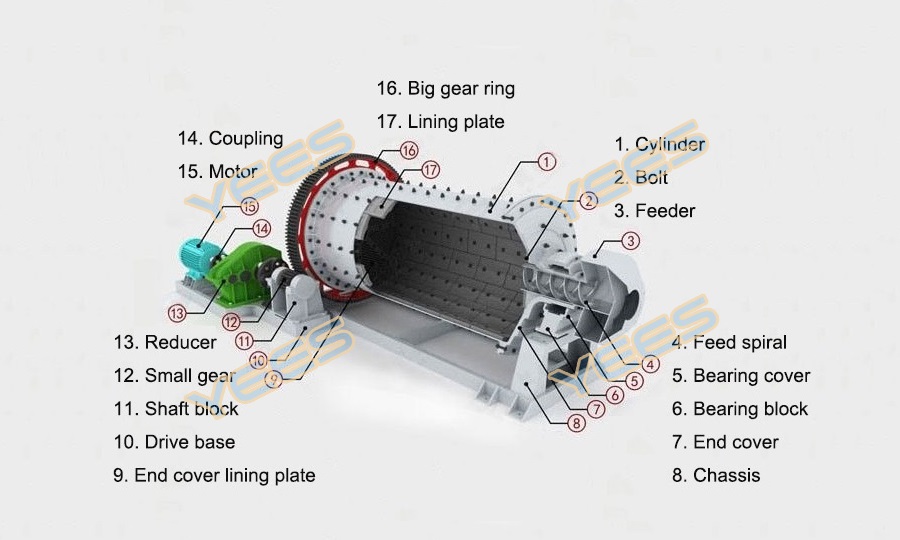 Advantages and features
1. Optimize the traditional ball mill, improve the working efficiency, greatly reduce the power consumption, economic and environmental protection;
2. The main bearing is lubricated with grease, which is convenient to use and clean, thus avoiding heavy metal pollution;
3. Using rolling bearing, not only the bearing capacity is large, but also long service life, increased more than 5% than sliding bearing life;
4. The hollow shaft is made of cast steel, replaceable liner;
5. The cylinder body is lined with wear-resisting liner, which has good wear resistance.

Application case video
Ball mill: https://youtu.be/15wXGc9ZBcc

Main technical parameters