Product introduction
Circular vibrating screen is a screening equipment, the vibration track is circular or ellipse. Because the vibrator has only one axis, so it is also known as the single axis vibrating screen. It is specially designed for quarries to sift stone or sand, and it can also be used for product classification in coal separation, mineral separation, building materials, electric power and chemical engineering. The machine has advanced structure, strong vibration force, low vibration noise, easy maintenance, durability and other characteristics. The circular vibrating screen adopts the pulley type eccentric block as the vibrator, the mechanical structure is simplified, the riveted assembly frame improves the service life of the equipment, the spring damping device reduces the impact force on the foundation, it is a kind of new multi-layer, high-efficiency vibrating screen.
The machine has long sieving thread, many sieving specifications, clear sieving specification of each grade, high sieving efficiency and no blockage. It has the advantages of reasonable structure, strong excitation force, low vibration noise, strong durability, convenient maintenance and safe operation. It's widely used in mining, building materials, transportation, energy, chemical and other industries, and it is the ideal equipment for crushing and screening machine group. When installed a small aperture screen, it is necessary to add water spray to screen wet viscous materials.
Circular vibrating screen working principle
the circular vibrating screen is composed of block eccentric vibrator, screen box, motor, base and supporting device. The motor makes the eccentric block of the vibrator rotate at high speed through the triangle belt, and the running eccentric block generates a large centrifugal force, which excites the screen box to produce circular motion of certain amplitude. The materials on the screen generate continuous throwing motion on the inclined screen surface by the impulse transmitted by the screen box. When the materials meet the screen surface, the particles smaller than the screen hole pass through the screen, so as to achieve classification.
Circular vibrating screen diagram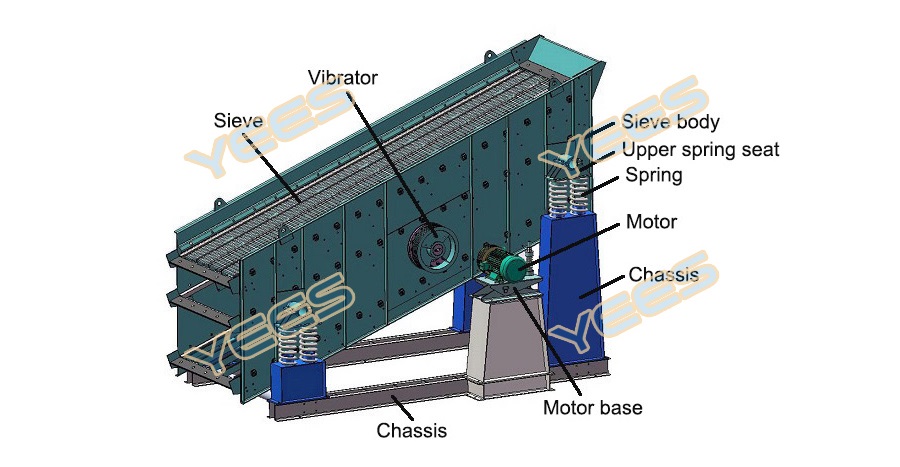 Advantages and features
1. It has novel structure, advanced technical parameters, large processing capacity and high screening efficiency;
2. The side plate is equipped with reinforcing plate, and several seamless steel tubes are used as beams to strengthen the rigidity of screen box. Riveted assembly frame, which improves the service life of the equipment;
3. Adopt the pulley type eccentric block as the vibrator, which is easy to use and maintain;
4. Uses spring steel woven screen or perforated screen plate, which has a long service life and no blockage;
5. Long life, low noise, stable resonance zone, etc.
YK series main technical parameters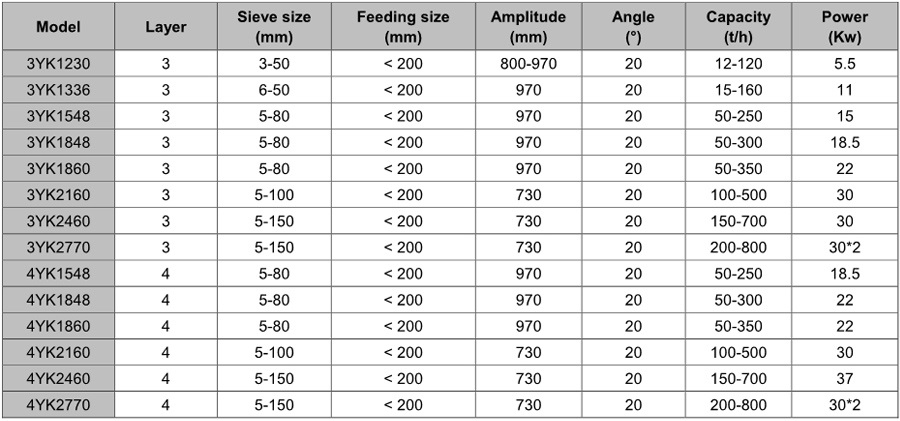 SZZ series main technical parameters