Product introduction
Belt feeder can transport all kinds of materials economically and effectively. It is one of the most frequently used feeding equipment. Belt feeder has gear reducer motor drive and electric roller drive two types. It can be used to transport all kinds of bulk and granular materials which the density is 0.5-2.5t/m3. According to the conveying requirements, can be a horizontal or inclined conveying system composed of single conveyor, multiple conveyor or combine with other conveying equipment. Belt feeder can be widely used in metallurgy, mineral processing, building materials, hydropower and other departments.
Belt feeder working principle
The material is fed to the belt surface through the feeding funnel, the belt slowly moves forward as the AC speed control motor rotates, the material on the belt surface fed into the next process at the end of the feeder to realize continuous feeding. There are two ways to adjust the feeding capacity: one is to adjust the speed of AC speed regulating motor; the other is to adjust the insertion depth of the gate which installed on the feeding funnel.
Belt feeder diagram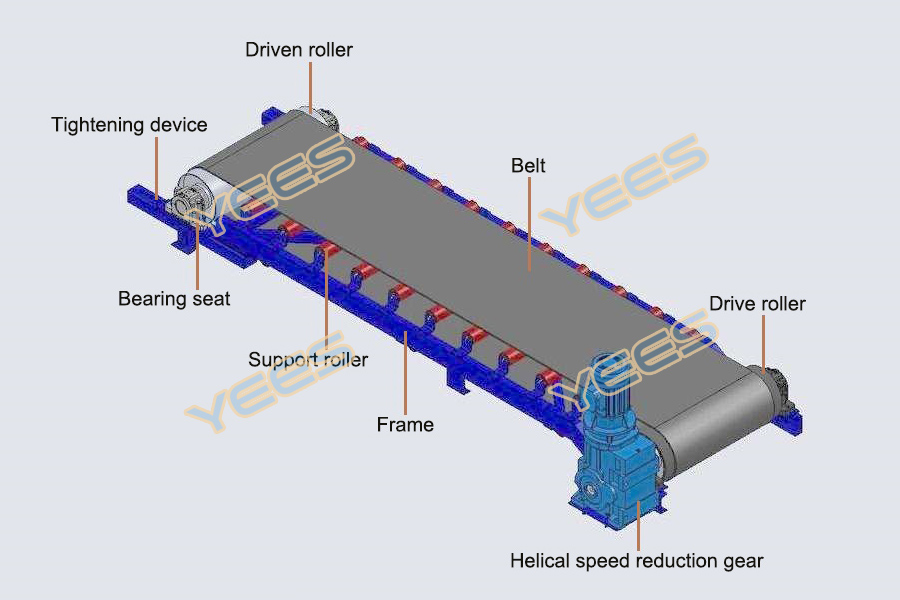 Advantages and features
1. Low power consumption and easy operation;
2. Easy installation, large conveying capacity;
3. Long feeding distance;
4. Low noise;
5. Standardized components;
6. Smooth running and convenient maintenance.
Main technical parameters