Product introduction
Mining diaphragm jig is a gravity separator which uses reciprocating movement of diaphragm forms pulsation of separation medium (water), and through specific gravity difference between mineral and gangue to layering and separation. Diaphragm jig is divided into four types, upper pulsating diaphragm jig, below pulsating cone diaphragm jig, side action diaphragm jig and cone diaphragm jig. It is suitable for the separation of metal ores, such as gold ore, tin ore, tungsten ore, titanium ore, lead ore, iron ore, zinc ore, manganese ore and so on. Diaphragm jig is only suitable for the separation of fine materials due to its small amplitude and low vibration strength.
Mining diaphragm jig working principle
The raw ore in feeding size range is fed into the jig machine uniformly through the feeding device. And the cam box of the jig drives the jig cone to do up and down movement, lead to the water in jig goes up and down regularly as well, to form an alternating vertical water flow force. The force causes the material to re-layered. The heavy materials can settle fast in the water and occupy the lower space, while the light materials settle slower in the water and stay at the upper space. Therefore, the materials into the jig machine are roughly divided into light and heavy two layers. Due to the difference of specific gravity, the light materials difficult to enter the lower space because they can't through the heavy materials layer, so they are discharged into the tailing tank by water flow. The heavy minerals depend on their own weight can pass through the bed layer and the screen to enter the concentrate tank. Material continuously enters the jig machine, after layering, separating, and then separately discharge, forming a continuous separating process. In the separating process, adjust the eccentricity of eccentric shaft to change the up and down moving distance of swing rod, and adjust the motor speed to change frequency of stroke.
Mining diaphragm jig diagram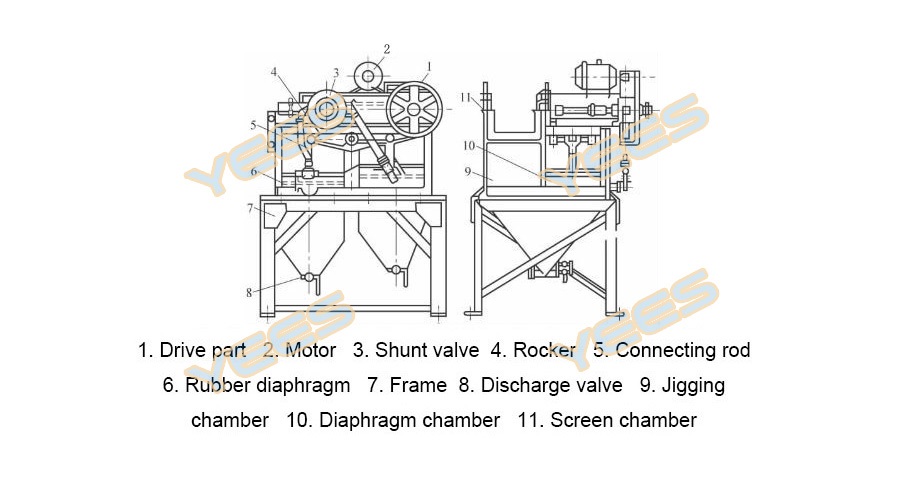 Advantages and features
1. Small size, easy to move, suitable for small-scale mining operations;
2. Simple structure, easy operation and maintenance;
3. Strong adaptability to various minerals;
4. Stable and reliable running, energy-saving and durable;
5. Less investment, quick revenue.
Main technical parameters