Product introduction
Gold centrifugal concentrator is a high efficiency heavy separation equipment, the principle is high speed rotation to enlarge the centrifugal force of feed particles, and the transverse water jet flush the light particles out of the concentration cone, but the heavy particles can stay because its larger centrifugal force, light out and heavy stay to achieve the purpose of separation. Due to its low weight, the settling speed of fine particles is slow, which makes it difficult to separate in other heavy separation equipment. When the concentration cone works, it can generate 60 times gravitational acceleration at the inner wall. When the centrifugal force enlarges to 60 times, the centrifugal force difference between heavy particles and light particles will increase exponentially. Therefore, gold centrifugal concentrator utilizes it to separate heavy particles and light particles.
Gold centrifugal concentrator is widely used in various types of gold mines, it has an outstanding effect on the free gold at different particle size ranges, it not only can be used in alluvial gold ore, but also can be used in hand rock gold ore as fine gold recovery equipment, and also can be used to recover gold on the tailing as flour gold recovery equipment. Application shows that the recovery of placer gold can be reach 99%, and the concentrating ratio can reach 1,000 times. In the recovery of natural gold in rock gold mines, when the feeding size is less than 0.074mm, the recovery rate of free gold can reach 98%, and 0.04mm of free gold can reach 97%.
Gold centrifugal concentrator working principle
The motor drives the hollow shaft through the belt to make the concentration cone rotate at a high speed. The water is fed into the hollow shaft through water pump to provide a water jet of 0.03-0.06Mpa pressure to the inner wall of concentration cone. The material (slurry) is fed into the concentration cone through the feeding pipe, the gravity separating process can be strengthened under enlarged centrifugal force. The heavy minerals stay in the groove of concentration cone, and the light minerals are discharged from the tailing pipe. After a shift operation, flush the concentrate out of the concentration cone after feeding stop.
Gold centrifugal concentrator diagram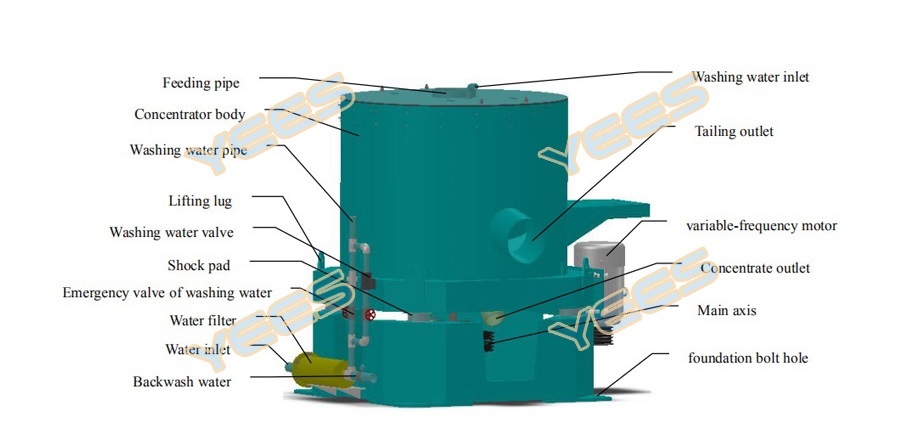 After improvement, the new gold centrifugal concentrator no longer needs manual flushing concentrate, before the manual flushing needs about 15 minutes, now the automatic flushing only needs 3 minutes. The equipment can automatically switch from mineral separation to concentrate flushing according to the set time (note: discontinuous operation, feeding should be stopped when flushing concentrate). In the process of complex gold mines, it can be switched to manual mode directly, the operator controls the flushing timing according to the situation of feeding and tailing.
Advantages and features
1. High enrichment ratio and high recovery;
2. Large capacity and high efficiency;
3. Automatic concentrate flushing, save manpower;
4. Stable and reliable running and stable separation index;
5. No any chemical agents required, environmentally friendly;
6. Less water and low power consumption;
7. Low production cost, long replacement cycle of wearing parts, simple maintenance;
8. Compact design, small floor area, easy to integrate into the existing separating process.

Application case video
Centrifugal gold concentrator: https://youtu.be/OlSd5RiO--A

Main technical parameters