Product introduction
Electromagnetic vibrating feeder uses a new type of vibration motor as the excitation source, is a new type of energy saving universal feeding equipment. This equipment is suitable for mineral processing plant, smelting plant, cement plant, chemical plant and other fields, it's suspended on the steel structure parts, installed under the hopper for continuous feeding. It's used for uniform, quantitative and continuous material supply of bulk, granular or powdery materials.
Electromagnetic vibrating feeder is a relatively complete double directional forced vibration of elastic particle system, the whole system work under low critical state of resonance. The material of feeding trough is thrown up continuously in the process of feeding, and make jump movement of parabolic path to forward, thus reaching the purpose of continuous, uniform, quantitative feeding. This series of electromagnetic vibration feeding machine adopts thyristor half-wave rectifier control method, convenient flow regulation, which can realize centralized control and automatic control.
Electromagnetic vibrating feeder working principle
The electromagnetic vibrating feeder utilizes electromagnetic vibrating device to drive minerals to reciprocate in the direction of dip. When the vertical component of accelerated speed of feeder exceeds accelerated speed, minerals are tossed upward and leap forward in parabolic fashion. It takes 1/5 second to finish the rising and falling. The chute vibrates for one time and subsequently the minerals are tossed for one time. The chute vibrate at a frequency 3000/minute. Correspondingly, minerals are tossed upward and leap forward. So the minerals can continuously and uniformly move forward and feeding is achieved.
Electromagnetic vibrating feeder diagram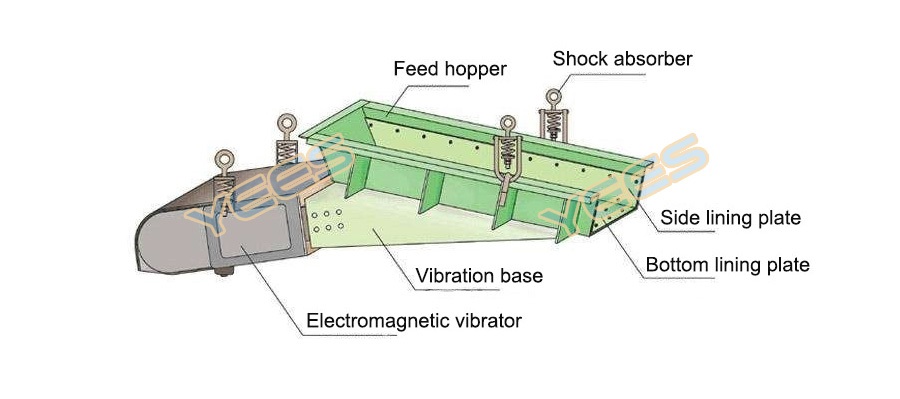 Advantages and features
1. Low price, small size, light weight, simple and compact structure;
2. Easy installation and maintenance, low operation cost;
3. High efficiency and large feeding capacity;
4. Low noise, conducive to improving the working environment;
5. Low power consumption and high power factor;
6. The equipment works in the state of resonance, so the amplitude is stable, the operation is reliable, and the equipment is highly adaptable to various materials;
7. If add the motor governor, it could be convenient to adjust the feeding amount stepless without adjusting the eccentric block.
Main technical parameters