Product introduction
Spring stone cone crusher is mainly used for secondary crushing and tertiary crushing. The crushing chamber type should be determined by the use of ore, the standard type is suitable for medium crushing, the medium type is suitable for fine crushing, the short head type is suitable for ultra-fine crushing. Spring stone cone crusher is suitable for crushing hard or medium hard ores and rocks, such as various metal ores, limestone, cobblestone, granite, basalt, etc., it's widely used in mining, metallurgy, construction, road, chemistry and phosphate and other industries.
Spring cone crusher working principle
Cone crusher crushes materials by the working surface between the movable cone and fixed cone. So it is more advanced and efficient than jaw crusher. The movable cone is supported by spherical bearing and fixed on a hanging erect shaft which is set in the eccentric sleeve, and the sleeve is set on the stopping and pushing bearing. The movable cone and erect shaft are driven by the eccentric shaft sleeve together. The eccentric shaft sleeve is driven by horizontal shaft and fimbriated gear, and the belt pulley of the horizontal shaft is driven by motor through v-belts. The lower part of vertical shaft is installed in the eccentric sleeve. When the eccentric sleeve rotates, there is a conical surface lined out by the shaft. When the movable cone comes near the fixed cone, rocks are grinded into pieces. When the movable cone leaves, grinded materials are discharged from the discharge hole. The fixed cone can be ascended or descended by adjusting setting to adjust the width of discharge hole, consequently to control the size of the discharge.
Spring stone cone crusher diagram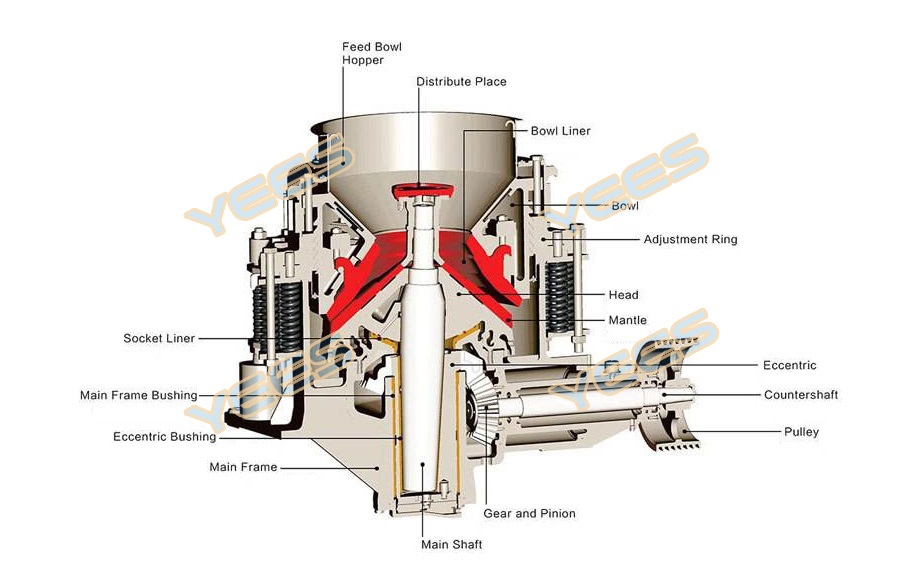 Advantages and features
1. Large capacity, no blocking to feeding and discharging;
2. Large crushing ratio, low power consumption;
3. Good and uniform particle size of finished products;
4. Adopt dry oil or water two kinds of sealing methods, so that dust and impurities cannot enter the body, so as to ensure the cleaning of lubricating oil, prolong the service life of sliding bearing and thrust ball bearing, and make the machine run reliably.
Main technical parameters