Product introduction
Spiral sand washer is suitable for the minerals of large grain size, high clay content and high viscosity. It's mainly used for cleaning and separating slime, mud lump and dirt of manganese, barite, kaolin, iron ore, phosphate and other minerals.
Spiral sand washer working principle
The motor drives two spirals to rotate in different directions through the reducer. The materials entering the washing tank then strongly stirred by the blades, and various materials of different sizes roll, rub and collide with each other, the mud lump and clay are fully disintegrated, and the impurities covering the mineral surface are washed fall off. Due to the buoyancy of water, the water flow in the washing tank will remove impurities and fine particles in time and discharge them from the bottom overflow port. The cleaned minerals are scraped up by the blades and discharged from the top sand return outlet, so as to realize the cleaning, classifying and desliming of materials.
Spiral sand washer diagram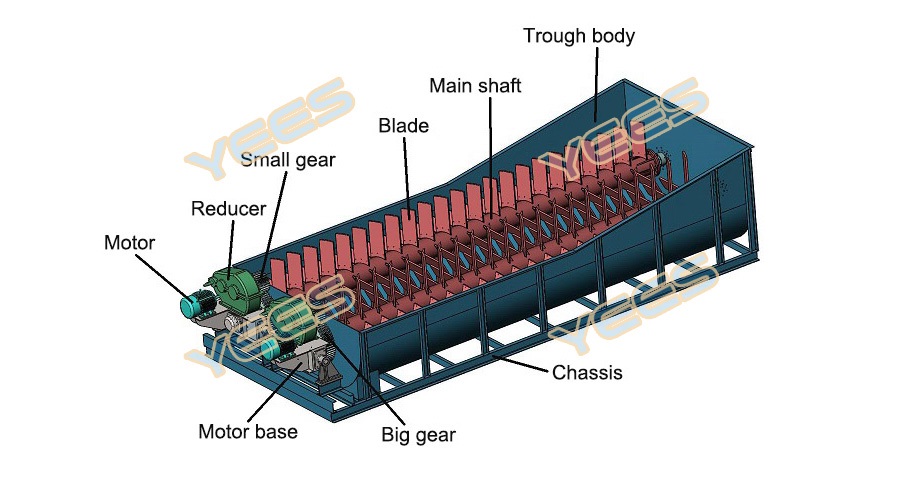 Advantages and features
1. The transmission bearing device adopts a special sealed structure, which is isolated from water and materials to avoid bearing damage caused by water, sand and pollutants;
2. Adjustable overflow weir plate to ensure the output;
3. Good washing efficiency and good desliming effect;
4. Simple structure, stable running, safe and reliable;
5. Large processing capacity, small power consumption, easy maintenance;
6. Replaceable spiral blade, wear-resistant and durable, easy to replace.
Main technical parameters