Product introduction
Hammer impact crusher is a new generation of single rotor impact crusher developed by our manufacturer by absorbing of advanced technology and combining with specific operating conditions of sand and stone industry. The size of discharging grain can be adjusted and the crushing size of is diversified. It uses the unique structural design, can break all kinds of large, medium and fine materials of particle size less than 500mm and compressive strength less than 350MPa, such as iron ore, river pebble, granite, limestone, concrete, etc. It's widely used in mines, quarries, railways, highways, energy, cement, chemical industry, construction and other industries.
Hammer impact crusher working principle
Impact crusher is a kind of crushing machine which uses impact energy to break materials. When it works, the motor drives the rotor rotate at a high speed. When the material gets into the blow bar working area, they will be stroke by the blow bar and thrown to the impact devices around the rotor. The material will come out from the discharge hole until they are crushed to the required size. The size and shape of material can be changed by adjusting the clearance between impact plate and rotor.
Hammer impact crusher diagram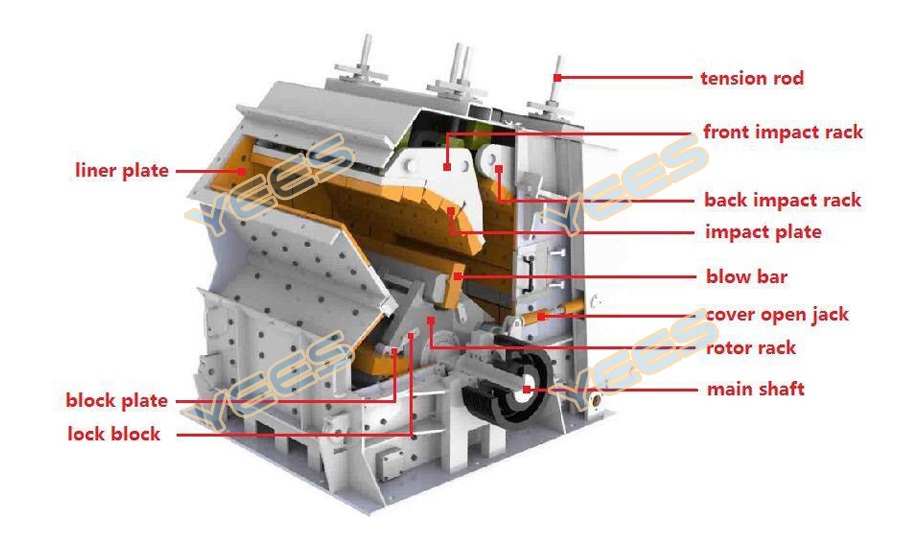 Advantages and features
1. Large feeding opening, high crushing chamber, suitable for block and hard materials;
2. Large crushing ratio is up to 40, which can simplify the crushing process and reduce production costs;
3. The clearance between the impact plate and the rotor can be adjusted conveniently, and the discharge particle size and particle shape can be effectively controlled;
4. Uniform particle size, mostly cubic stones;
5. Compact structure, strong rigidity, the rotor has a large moment of inertia;
6. High chromium plate hammer, impact resistance, wear resistance, large impact force;
7. Convenient maintenance, economical and reliable;
8. Complete crushing function, high productivity, less wearing parts and high benefits.
Main technical parameters