Product introduction
Vertical shaft impact crusher is also known as vertical compound crusher or rock impact crusher, is a non-sieve, adjustable fine crushing equipment, and is one of the common equipment in crushing line and sand production line. It can be applied to cement raw material or cement clinker, providing an ideal crushing equipment in cement plant, and also applicable to the crushing of metal ore, limestone, sandstone, gypsum, furnace slag, gangue, lump coal and other hard ores. Vertical compound crusher has the characteristics of large crushing ratio, small energy consumption, smooth operation, simple structure, easy operation and maintenance, etc.
Vertical shaft impact crusher working principle
The massive material falls to the upper throwing plate of the upper crushing chamber from the hopper. The material is thrown to the inner wall of the cylinder by the centrifugal force of the throwing plate, it is violently collided with the counterattack plate installed on the inner wall. At the same time, the material is collided with each other, causing it to break or generate a large number of hairline cracks. Then the material enters the conical rotor chamber and falls as a spiral track in the conical space. After impact, stamping and extrusion, the cracked ore is further broken. Due to the slant between the conical rotor and the liner plate, smaller materials are fall downward to achieve automatic grading of crushing from large to small. The material is hit by the hammer on the conical rotor chamber, high-speed injected and impacted on the counterattack plate, as well as collided with each other, so that the material is hit, impacted, cut and extruded into pieces, thus improving the crushing efficiency.
Vertical shaft impact crusher diagram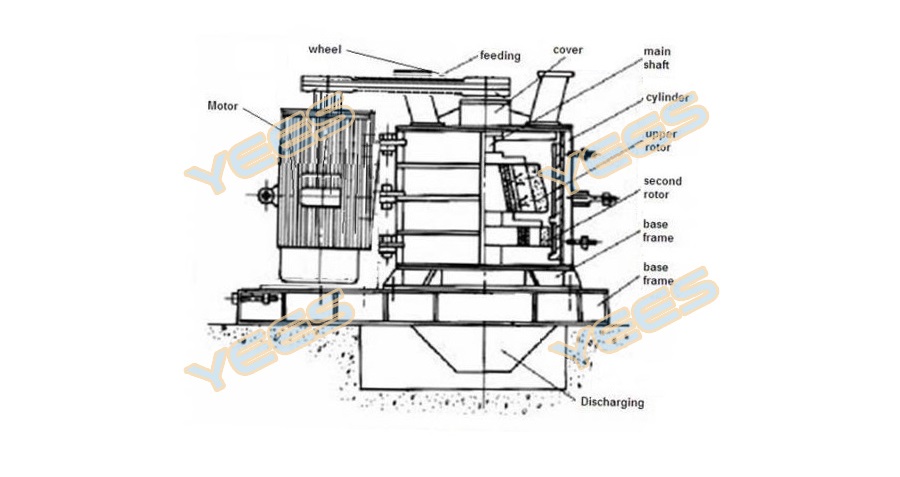 Advantages and features
1. Adjustable discharging size and large crushing ratio;
2. No sieve design, elastic adjusting device to reduce the blockage of materials with high moisture content and high mud content in the crushing process;
3. Simple structure, there is a viewport on one side of the cylinder, which is convenient for operators to detect the internal conditions, and also simplifies the installation and maintenance of equipment;
4. Compared with other crushing equipment, it has the characteristics of low running cost, low noise and smooth running.
Main technical parameters