Product introduction
Yunnan Tin shaking table is China Yunnan Tin Industry Machinery Manufacturer improved on the Soviet CC-2 shaking table, so called Yunnan Tin shaking table or Yun tin shaker. It uses cam lever type or cam rocker type gear box, the table support adopts sliding form. The table shape and size of Yunnan Tin shaking table are basically the same with 6S shaker table, The table has 3 types: coarse sand table, fine sand table and slime ore table. Coarse sand table is trapezoidal strips, fine sand table is sawtooth strips, slime ore table is triangular grooves, the user can choose the appropriate table according to the size and concentration of different materials.
The working principle of Yunnan Tin shaking table please refer 6S shaker table. The practice shows that Yunnan Tin shaking table is suitable for the separation of fine grain ore at small lateral slope, especially slime ore.
Yunnan Tin shaking table diagram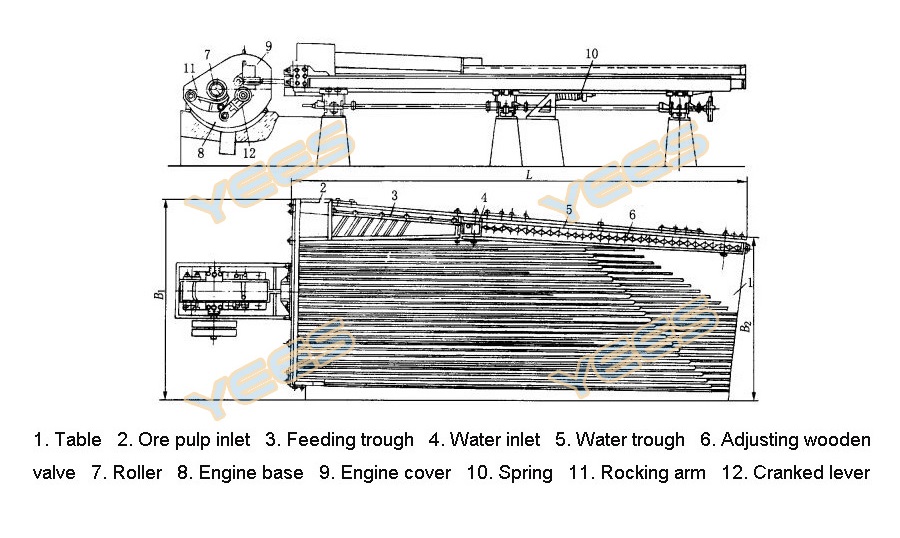 Advantages
1. Good movement curve, smooth table surface, wear resistance, corrosion resistant, no deformation;
2. Smooth running, less wearing parts, no oil leakage, easy operation and adjustment;
3. Remarkable mineral zoning and high separation rate;
4. Feeding particle size can be 2-0.019mm;
5. Widely used in the gravity separation of tin, tungsten, lead, bismuth, titanium, manganese, tantalum, niobium, gold and other ores.
Disadvantages
1. The spring is installed under the table, which is inconvenient for maintenance and adjustment of the stroke (the spring should be loosened before adjusting the stroke);
2. The adjustable range of transverse slope of table is small (It's 0°-5°, 6-S shaking table is 0 °-10 °);
3. Big adjustment of transverse slope and stroke will cause table vibration.
Main technical parameters