Product introduction
Jig machine utilizes water as a separation medium, the separation according to the difference of specific gravity (density) between useful minerals and gangue, it is one of the modern gravity separation equipment, can be roughing equipment or cleaning equipment widely used in metal ore, such as tungsten ore, placer gold ore, tin ore, tantalum ore, niobium ore, coltan ore, manganese ore, barite ore and so on, and also widely used in the recovery of useful metals from smelting slag or burning slag of power station, practice has proved that its separation effect is very remarkable. Jig machine can be used to separate fine grain materials, but also can be used to separate coarse materials, usually the maximum feeding grain size is 5-6mm, but it can reach 20mm if uses upper screen division.
Jig machine working principle
The raw ore in feeding size range is fed into the jig machine uniformly through the feeding device, and the cam box of the jig drives the jig cone to do up and down movement, lead to the water in jig goes up and down regularly as well, to form an alternating vertical water flow force, the force causes the material to re-layered. The heavy materials can settle fast in the water and occupy the lower space, while the light materials settle slower in the water and stay at the upper space. Therefore, the materials into the jig machine are roughly divided into light and heavy two layers. Due to the difference of specific gravity, the light materials difficult to enter the lower space because they can't through the heavy materials layer, so they are discharged into the tailing tank by water flow. The heavy minerals depend on their own weight can pass through the bed layer and the screen to enter the concentrate tank. Material continuously enters the jig machine, after layering, separating, and then separately discharge, forming a continuous separating process. The pulsation curve of traditional jig machine is sinusoid, the up and down move speed are basically the same. Sawtooth wave jig machine is developed and improved on the basis of the traditional jig machine, its pulsation curve is sawtooth shape, which makes the jig cone up rapidly and down slowly. This movement is more suitable for material layering, helps bed layer loose grain and material layer according to different specific gravity, let the fine particle of heavy minerals can fully settle, greatly improve the separation ability and the recovery rate, and due to smaller down suction, can greatly reduce make-up water, it becomes a kind of energy-saving and water-saving gravity equipment.
Jig machine diagram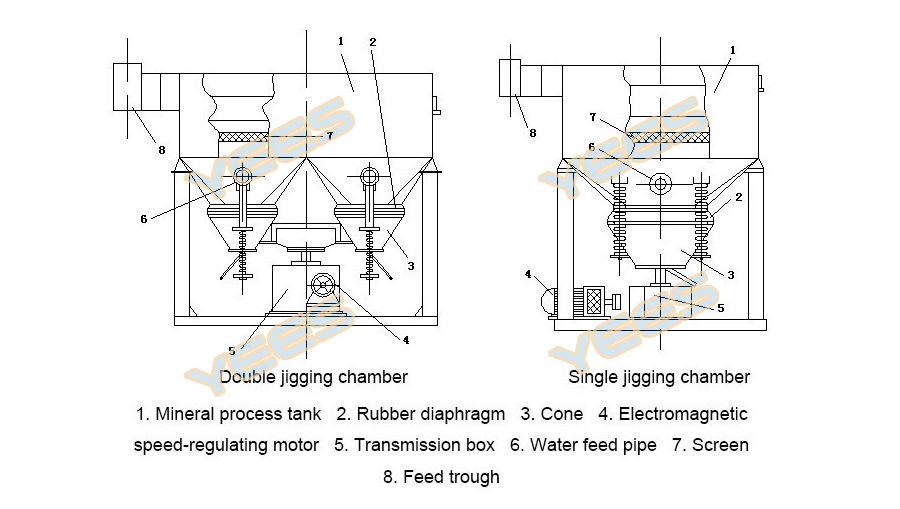 Advantages and features
1. Large capacity, wide particle size range and high recovery;
2. Easy installation, operation and maintenance;
3. Adopt electromagnetic speed-regulating motor to adjust the jig speed discretionarily;
4. Low energy consumption;
5. Stable operation and low failure.

Application case video
Diamond and gold processing plant on land: https://youtu.be/I3x9R_ifQ60
Diamond and gold processing plant on river: https://youtu.be/c6TN527i7PE

Main technical parameters