Product introduction
PE jaw crusher is mainly used as primary crusher and secondary crusher in the mining plant, it can crush all kinds of medium and hard ores and rock materials which the compressive strength less than 320Mpa. The machine has the characteristics of large crushing ratio, uniform particle size, simple structure, reliable work, easy maintenance and economic operation cost. Jaw crusher is a necessary equipment for crushing in various crushing production lines, sand production lines, grinding production lines and mineral processing lines. It is widely used in many departments such as mines, quarries, smelting, construction waste treatment, highways, railways, water conservancy and chemical industry.
PE jaw crusher working principle
The motor drives the belt and pulley to make the movable jaw move up and down through the eccentric shaft. When the movable jaw rises, the angle between the toggle plate and the movable jaw becomes larger, which pushes the movable jaw plate close to the fixed jaw plate. At this time, the material is strongly squeezed or split to achieve the purpose of crushing. When moving jaw downward, the angle between the toggle plate and the movable jaw becomes smaller, and the moving jaw plate leaves the fixed jaw plate under the action of pull rod and spring. At this time, the broken materials are discharged from the lower opening of the crusher. With the continuous rotation of the eccentric shaft, the movable jaw makes periodic reciprocating movement, and the materials entering the crushing chamber are continuously broken and discharged to realize continuous production.
PE jaw crusher diagram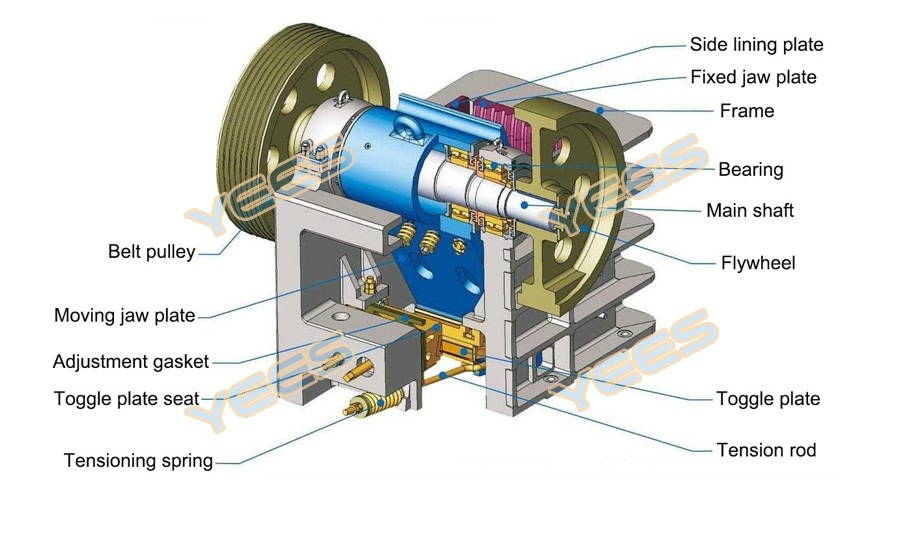 Advantages and features
1. Large crushing ratio, uniform particle size;
2. Simple structure, easy operation and low operating cost;
3. Safe and reliable lubrication system, convenient wearing parts replacement and simple maintenance;
4. The movable jaw plate is made of high quality cast steel, and the heavy eccentric shaft is processed by forging blank, which makes the main machine have extraordinary stability;
5. Adopt high quality eccentric shaft bearing, make it have higher bearing capacity.
Main technical parameters