Product introduction
Hydrocyclone is a kind of equipment that classifies pulp by centrifugal force. It is widely used in the classification, separation, concentration, desanding, desliming of slurry materials. It's is one of the important equipment for removing sand in the oil field, classification in the mining plant, water process in coal plant.
Hydrocyclone with smaller diameter usually has better classification effect. However, for large scale plants of large processing capacity, the processing pulp is huge. If we choose a large diameter hydrocyclone, we need to face the problem of high cost for hydrocyclone and high cost for ancillary equipment. At this time, hydrocyclone cluster becomes the best choice, the hydrocyclone cluster composed of two or more small hydrocyclones combined in a certain way. The combination mode can be in series or parallel. The different quantities and models of hydrocyclone can be assembled according to the actual working conditions.
Hydrocyclone working principle
When the slurry enters the cylinder from the tangential direction of the feed pipe with 0.05-0.25kpa pressure and 5-12m/s speed, the slurry rotates along the wall of the cylinder at a very fast speed and generates a great centrifugal force. Under the action of centrifugal force and gravity, the coarser and heavier particles are thrown on the wall of the cylinder, which moves downward as a spiral track and discharged from the apex at the lower part of the cone. The fine particles with water form an internal upward spiral slurry flow at the center of the cone, which discharged through the overflow pipe. The effective particle size range of hydrocyclone is 0.3-0.01mm usually.
Hydrocyclone working principle diagram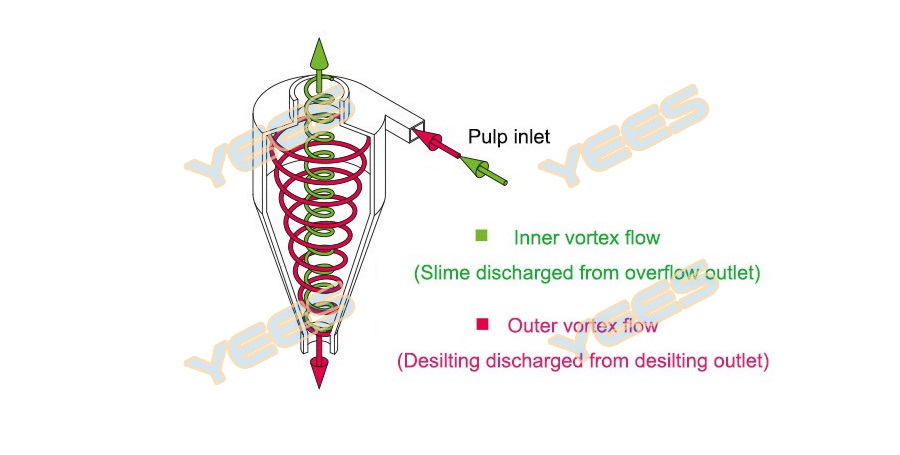 Advantages and features
1. Low price, high classification efficiency;
2. Simple structure, no moving parts;
3. Large capacity, small floor area, low infrastructure cost;
4. Fine classifying granularity.
Main technical parameters