Product introduction
Carpet gold sluice box is also known as gold chute or panning chute, it's simple structure and low cost, lead to it becomes the most common gold separation equipment. Usually it consists of chute body, strip grating and carpet. In use the gold sluice needs a certain slope to facilitate slurry flow, the appropriate slope could be 5-6°. If the gold content of raw ore is relatively high, add one or two pieces set at the end of the first sluice to have the supplemental recovery of fine gold.
Carpet gold sluice box is usually combined with gold mining trommel screen to recover gold. The gold sluice box put at one side or both sides of trommel screen, the material flow into it directly after washing and screening of trommel screen. The gold grain can be trapped by strips or carpet because its weight, after a certain period of time then wash out the sediment from the sluice, and then use wash pan or shaking table to obtain the gold.
As roughing gold separating equipment, the maximum feeding particle size of gold sluice is 100-200mm, and the lower limit of efficient recovery particle size is 0.074mm. It's suitable for roughing and scavenging on alluvial gold ore, can also be used as an auxiliary separating equipment on dredger, sand washing plant and tailing mining plant. Although it has many advantages, but it has a poor separating effect on fine gold and flaky gold, overall, its recovery rate would be less than 70%. Therefore, more and more mine owners are using more advanced gold separating equipment now, such as fine gold sluice box, jig machine or gold centrifugal concentrator to improve the gold recovery rate.
Carpet gold sluice box diagram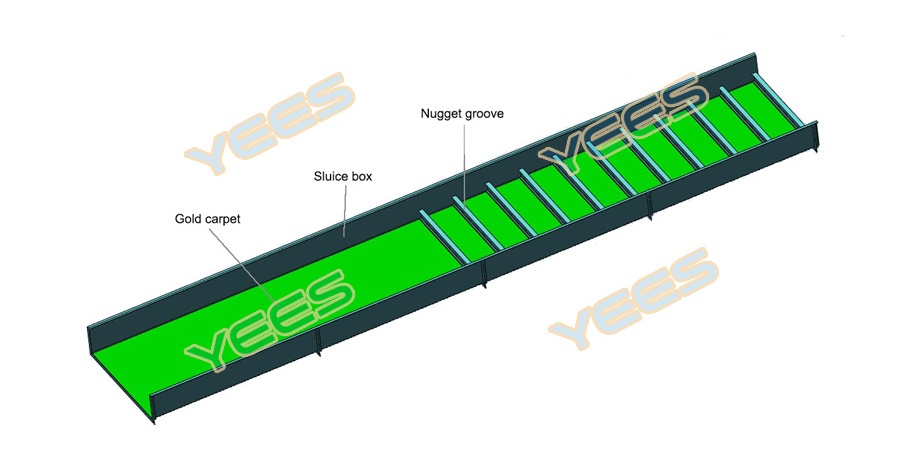 Advantages and features
1. Low price, large capacity, no power required, small water consumption, minimal initial investment;
2. Easy installation, simple operation, high strength chute, portable, easy to move;
3. Easy maintenance, only need to replace the carpet, and the carpet is long service life and low price;
4. Strong adaptability, able to operate in mines with various conditions;
5. Can customize various specifications according to use's requirements.

Application case video
Alluvial gold ore processing plant: https://youtu.be/VR4a1bhaZmE and https://youtu.be/eTUY6noO8ZI

Main technical parameters