Product introduction
ZKB linear vibrating screen adopts double motor self-synchronizing technology, it uses universal adjustable eccentric amplitude vibrator, it is connected by high-strength rivet, supported by rubber spring, uses polyurethane sieve plate or welded grating sieve, seamless steel tube beam and universal coupling and other new components. It can be used for dry and wet screening, dewatering and desliming of medium and fine grain waste materials in coal separation, mineral processing, building materials, power station, chemical industry and other industries. It's suitable for sieve dry powder materials of particle size 0.074-5mm, moisture content less than 70% and no viscosity. The maximum feeding grain size shall not be bigger than 100mm.
ZKB linear vibrating screen working principle
It's famous because of the movement track of its screen box is directional linear vibration, and because the vibrator has two shafts, so it is also called double shafts vibrating screen. Two shafts are equipped with the same eccentric distance and equal weight eccentric block, each shaft drove by a separate motor. Because the rotation direction of the two shafts is opposite and the speed is equal, the centrifugal inertial force (excitation force) generated will cancel each other in one direction. And the resultant force of the centrifugal inertial force of the vertical direction makes the screen box to vibrate along the straight direction, which drives the material to make throwing motion on the screen surface, so as to achieve the purpose of classification.
ZKB linear vibrating screen diagram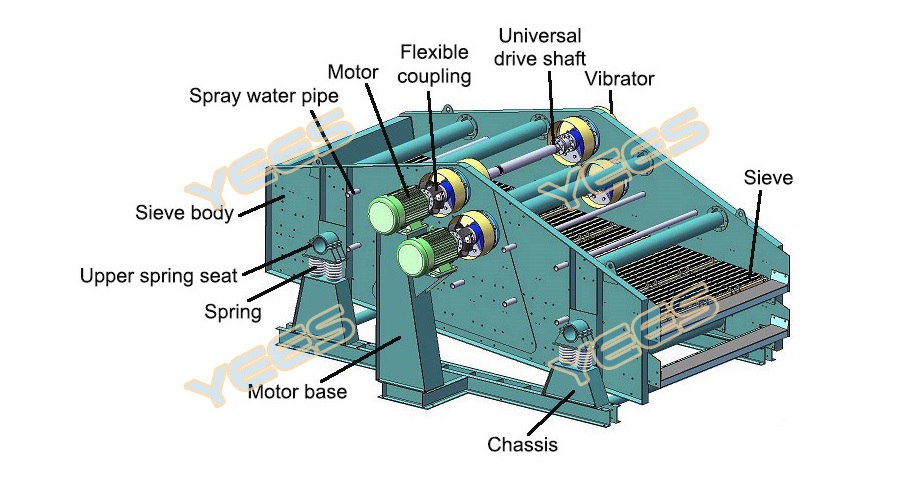 Advantages and features
1. Adopts double shafts self-synchronizing vibrator, strong excitation force;
2. Low energy consumption, low noise, long service life;
3. The side plate is equipped with reinforcing plate, and several seamless steel tubes are used as beams to strengthen the rigidity of screen box. Riveted assembly frame, which improves the service life of the equipment;
4. Adopts rubber belt elastic coupling and universal coupling transmission, soft connection and smooth running;
5. High screening accuracy, large processing capacity, high screening efficiency;
6. Automatic discharge, more suitable for assembly line work;
7. Simple and stable structure, easy and fast maintenance.
Main technical parameters