Product introduction
Hydraulic radial jig is also known as circular jig, it's mainly composed of drive part and tank part. The drive is the mechanical hydraulic form, the motor provides power to the variable speed gear. It revolves the cam, and the cam pushes the piston of each driving cylinder to do periodic reciprocating movement. Through the hydraulic pipeline and various valve parts, it drives the driven cylinder, thus forming up and down pulsation of each jig cone.
Hydraulic radial jig has many advantages compared with other jig machines: Large jigging area, large capacity; Due to the fan-shaped machine body, compact structure, small floor area, suitable for use on dredger; Due to the hydraulic transmission, the driving mechanism is simplified and power saving, such as: The total power of the model DYTA7750-9 is only 11.6 Kw, can save about 55% power than the conventional jig machine in the same jigging area. The pulsation curve is approximation saw-tooth curve, not only conducive to recover fine heavy minerals, also saving a large number of make-up water, the make-up water is about a quarter of the ordinary jig.
Hydraulic radial jig working principle
The hydraulic system is mainly composed of hydraulic pump station, driving cylinder, driven cylinder, hydraulic pipe and control valve. The hydraulic pump station is for add oil, the driving cylinder is through the cam to push the piston, makes mechanical energy to hydraulic energy, the driven cylinder pushes the piston to move by oil pressure from the driving cylinder, makes hydraulic energy back to mechanical energy. Its mineral separation principle please refer the sawtooth wave jig machine.
Hydraulic radial jig diagram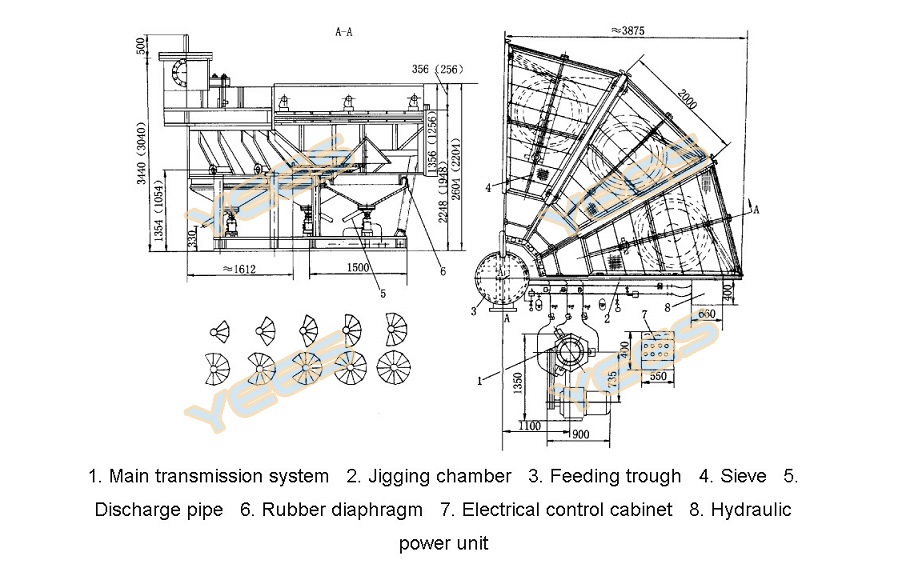 Advantages and features
1. Big capacity, less floor area;
2. Wide granularity range and strong applicability;
3. Easy installation, simple operation and easy maintenance;
4. The pulsation curve is saw-tooth wave shape facilitate heavy mineral to settling, high recovery;
5. Saving 60-70% of water and 55% of power than the ordinary jig
6. It is suitable for the separation of gold, tin, diamond, tungsten, manganese, hematite and other heavy minerals, especially widely used in manganese ore and barite ore.
Main technical parameters