Product introduction
Hammer mill rock crusher uses the high-speed rotating hammer to collide and break the material. It has the characteristics of simple structure, large crushing ratio and high production efficiency. It can work in both dry and wet forms. It is suitable for the materials which the compressive strength less than 150MPa and the moisture content less than 15%. Hammer crusher is suitable for fine crushing of medium hardness and brittle materials in mining, slag metal recovery, cement, coal, metallurgy, building materials, highways, etc.
Hammer mill rock crusher working principle
The main working part is rotor with hammer. The rotor consists of spindle, disk, pin shafts and hammers. Motor drives the rotor rotate quickly in the crushing cavity. Raw materials enter the crusher through the feeding inlet, they are impacted, cut and ground by high speed hammer. There is a grate under the rotor, so that materials which the size smaller than the grate gap will be screened out, and others are left to be further hammered until they reach the pass size. The size of the final product can be adjusted by changing the grate. Through adjust the gap of grate to change the discharging size of materials according to user's requirements.
Hammer mill rock crusher diagram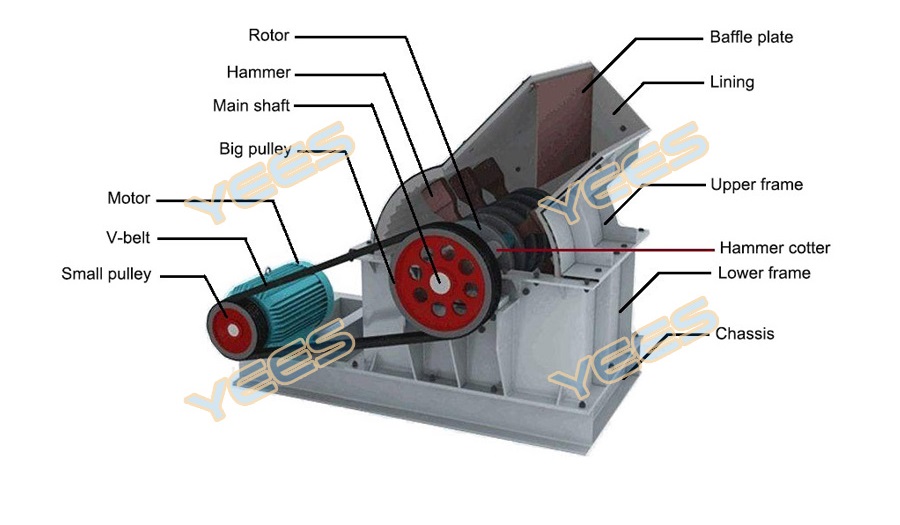 Advantages and features
1. Compact structure, easy maintenance;
2. High wear resistance hammer, high manganese steel casting, with high density, wear resistance, impact resistance;
3. Small investment, fast returns;
4. It not only has the advantages of large feeding size as jaw crusher, but also has the characteristics of small discharging size of sand making machine;
5. The grate design of the discharge outlet can directly screen the discharging material, and the particle size of the discharging material is uniform, a single hammer crusher can be a sand and stone production line independently.
Main technical parameters