Product introduction
Wet pan mills are also called gold mill, gold grinding machines, roller mills. Many users praised it for small investment, quick returns, low production costs, good efficiency, it is the best alternative equipment to the ball mill currently. It's low energy consumption, easy installation, easy maintenance, and it is the ideal mineral processing equipment for small and medium-sized enterprises in mining. The wet pan mills are mainly used for gold, silver, lead, zinc, iron, molybdenum, copper, antimony and other minerals. Any ore that can be ground by ball mill also can be grinded by wet pan mill.
The amalgamation is an ancient but most effective way to extract gold. The ore is crushed and grinded by the wet pan mill, and the mercury is put into the pan. Generally, put 3-5 kilograms of mercury at the beginning of grinding, also can put it after grinding for a period of time. After the ore grinded, the mercury absorbs the gold. After one shift or one day two days to stop the machine and draw off the water, remove the mercury gold from the pan. This method is called amalgamation of gold extraction.
Wet pan mills working principle
The motor drives the transmission box by the triangle belt, and the transmission box drives the grinding wheel, the grinding roller rotates around the vertical transmission shaft and rolls along the grinding pan at the same time. The material in the pan rotates together with the rotating of the grinding roller so as to achieve the purpose of uniform mixing. The coarse particle material which falls on the grinding pan is stirred, rolled and grinded repeatedly by the grinding roller, it reached a certain fineness then discharged with water, thus achieving the purpose of grinding.
Wet pan mills diagram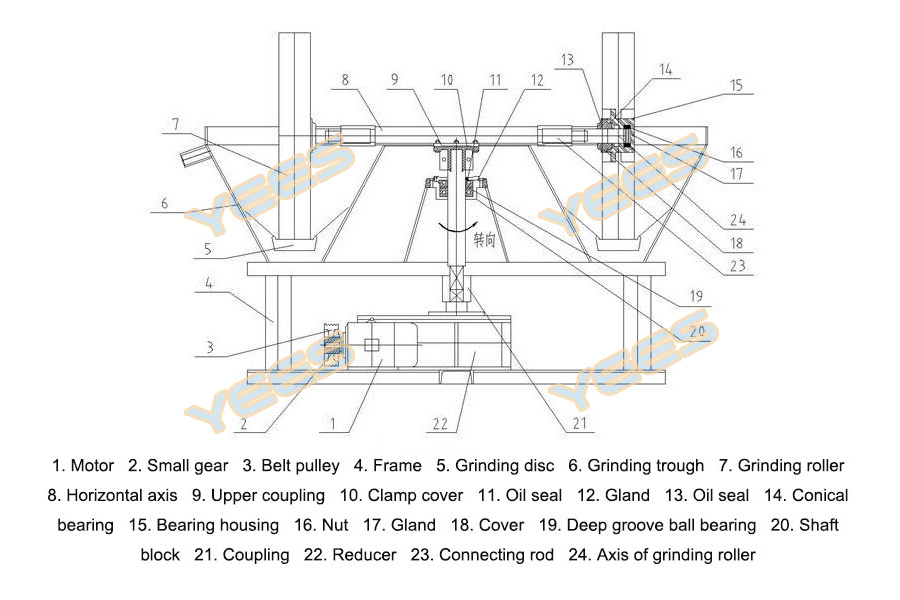 Advantages and features
1. Low price, small investment, quick returns;
2. Low energy consumption, easy installation and maintenance;
3. Grinding fineness is easy to control.
Main technical parameters